News - EN
The first conference

mercoledì 23 ottobre 2019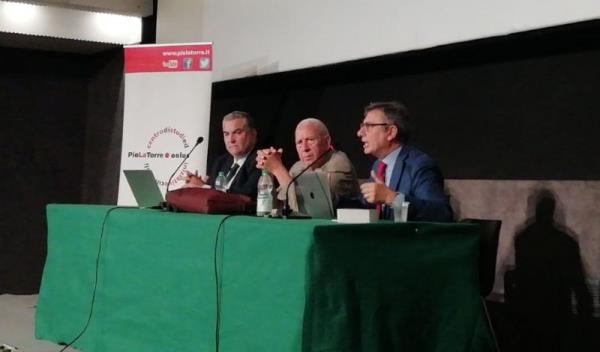 The first conference of the Anti-Mafia Educational Project 2019/2020 organized by the Pio La Torre Study Center was held on October 23rd 2019, at the Rouge et Noir of Palermo. The title of the conference was "The evolutions of the mafias since the post second world war". The speakers present were: the president Vito Lo Monaco, Vincenzo Militello, jurist of the University of Palermo, Antonio Balsamo, magistrate representative for Italy at the UN and also Giovanni Grasso, counselor of the Italian President of the Republic. The greetings of Paolo Sciascia, director of the Ministry of Education, University and Research were also received.
 Vito Lo Monaco recalled how the 80s were a fundamental turning point because it was in those years that a social movement against mafia and its crimes was born. A social movement that, as pointed out by Vincenzo Militello has been a continuous push for the enactment of laws to contrast the mafia even though the Italian parliament approved them only after the killing of important people like Pio La Torre.
Antonio Balsamo pointed out that "After the ferocious blows to Cosa Nostra by unprecedented legislative and judicial activity that deprived it of human and economic resources, the mafia has adopted the strategy of submersion, knowing however how to adapt to the social and political changes, managing to blend into the centers of the power ".
The conference ended with the debate carried out by the students from the secondary schools and from those of the Italian district houses.
The next conference will take place on November 14th at 9:00 and will have the title of: "The Mafia in the era of globalization".
Commenti
Nessun commento scritto
Chi siamo
Archivio
Contatti
Centro di Studi ed Iniziative Culturali
Pio La Torre Onlus
Via Umberto Boccioni, 206
90146 Palermo
Telefono-Fax +39 091 348 766
info@piolatorre.it
C.F. 93005220814
Privacy Policy | Cookie Policy